M.A. in Art Education
Explore art through teaching and teaching through art.
We immerse artists in specialized arts practice, introduce innovative teaching approaches and classroom art projects, and cultivate the rich connections young people can build across the arts, across other disciplines and across the lifespan. As part of the Special Education program, the Art Education M.A. focuses on inclusive learning through the arts. Successful program completion prepares artists to become creative art teachers and leads to eligibility for New York State teaching certification.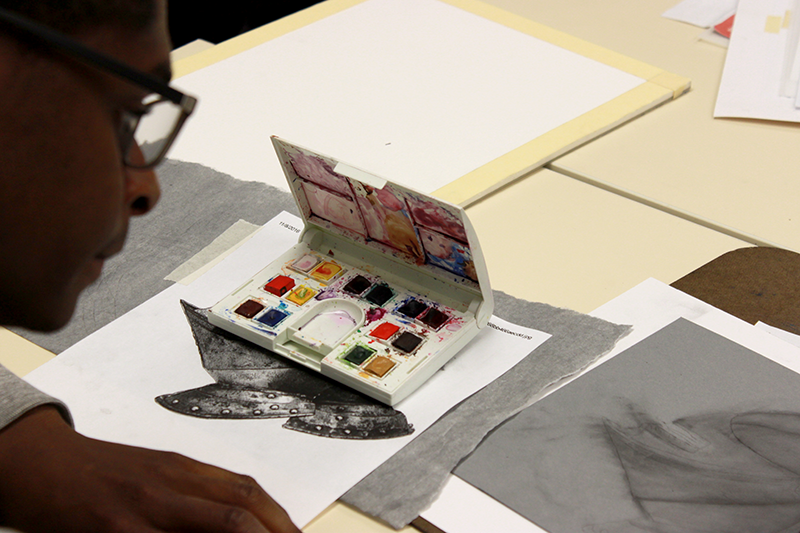 WHY SHOULD I ENROLL IN ADELPHI'S M.A. IN ART EDUCATION PROGRAM?
Hands-on artistic exploration, teaching practice and technology-rich media arts resources build your creative teaching voice.
Unique hybrid flexible scheduling enables students to take many required courses partially or fully online, with additional intensive courses offered on campus during the weekends and summer.
Accelerated program and courses available in Manhattan.
Personalized advisement and career planning support, inventive and meaningful course assignments, unique studio offerings and study/teach abroad opportunities are offered.
Graduates work in a variety of New York City and Long Island schools, museums, studios and community arts settings as educators, teaching artists and arts leaders.
In addition to certification in visual art, you can pursue special education teacher certification through our advanced certificate programs. In most cases, some course work and student teaching is waived for existing students.
WHAT WILL I STUDY IN ART EDUCATION?
Through flexible evening, blended and online, summer and weekend courses, you'll explore the craft of art instruction in many settings, including studio art to build artistic portfolios and integrated teaching practice with skilled K–12 teachers and University mentors. You'll also gain school fieldwork experiences in local elementary, middle and high schools.
Our program is unique in its emphasis on integrating all the arts into education through specialized courses and studio work leading to exhibition opportunities so you can meaningfully connect your creative processes and teaching practices.
» View the M.A. in Art Education plan of study
WHAT WILL IT COST?
Tuition in the M.A. in Art Education online/low residency program will be $985 per credit for students beginning Spring 2018 or later. The program is 37 credits.
» Go to tuition and financial aid details
HOW DO I APPLY TO THE M.A. IN ART EDUCATION?
In addition to a completed application for graduate admission and application fee, applicants must submit:
Personal essay
Two letters of recommendation
All official college transcripts
GRE or MAT (Millar Analogies Test) score
Artistic portfolio of 10 to 15 representative artworks, which may be submitted on a CD or emailed to artedma@adelphi.edu
Applicants must have an undergraduate GPA of at least 3.0.
Please contact artedma@adelphi.edu with any questions about the M.A. in Art Education portfolio. International students should contact the Office of University Admissions about any language requirements. 
Students can also request to enroll in classes on a provisional or nonmatriculating basis after transcript review but before completion of the application.